Monument Update: September 9th, 2022:
Pavers are scheduled to be installed at the KHS monument site starting September 21st, 2022.
Thank you to all who have purchased pavers in honor of loved ones, coaches, teachers, teammates, and teams. They are going to look great!
Monument Update: July 29th, 2022:
Ahhhhh. And you thought we might leave it that way? Nope…here's the evidence that there is more to this than you'd think! These are 'capstones' and they will be placed on top of the serpentine wall to close it off. They arrived yesterday and will be placed when the stone mason has the minutes to give us. That means our job is (maybe halfway?) done. There is landscaping which involves placing the pavers you have donated. That will be happening this summer as well. So you still have time to order a paver, or just plain donate. WE STILL NEED YOUR HELP! You have come to the field and given us support. Please keep it going! OUr Vikings didn't give up, you can't either. Let us hear from you with financial and verbal support. We depend on you to finish this project.
And stay tuned right here….in time, you will see actual Viking head pavers….cost yet to be determined, we'll be back to you soon! Go Vikes.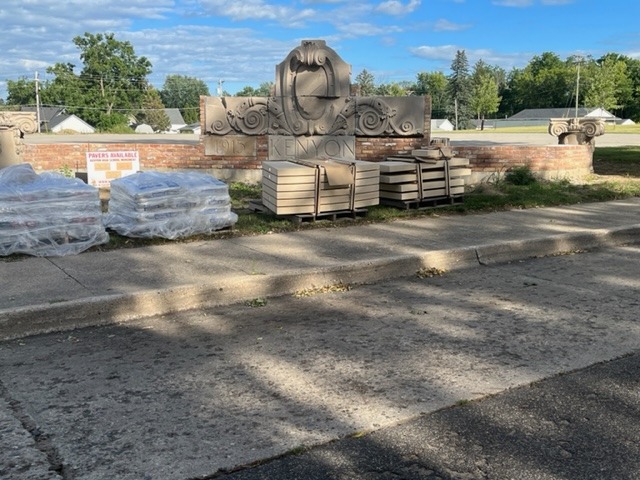 What was behind that tent? Nope, it wasn't that Lost Norwegian….
the answer….more of an idea what our project will look like when completed!
Please enjoy, take in, and reflect on the fun and games you had during your years at KHS.
And while you do that, we need you! Please Help Us Finish This Monument. It's a very complex process.
We are now looking at the pavers.
This is a very important part of our project….it's your personal stamp and a chance to memorialize someone or something that you want remembered.
Please remember that the price of a paver today is $100….but the price goes on to $130 on March 15. Purchase a paver today!