Since the demolition of the Kenyon High School and Grade School building in 2013, a group of community members/alumni have been dedicated to establishing a permanent monument in recognition fo the Kenyon Schools and their importance to their community.
The KHS Memorial Committee's goal is to raise funds that will enable it to create a green space for the monument on the boulevard of the former Kenyon High and Grade School Site. The Committee received a contract from First Lutheran Church in Kenyon to put the monument in that location. 
The Committee consists of alumni, so far including members from the classes of '61, '68, '70, and '71, plus some parents and community members. And as many members know, when the physical place is gone, history can be more challenging to remember and the Committee believes this is an way to celebrate our Kenyon history. 
"The monument will stand as a remembrance of the commitment of Kenyon, along with the memories that were made throughout those years" – Cindy Trapp, Committee member. 
"This monument will give people a place to visit, to reflect, to share, to laugh and perhaps cry about those years and those with whom they 'hung out'. This monument will be a place to honor those whom we have loved and remembered, and want others to remember." – Mary Danielson-Gates, Committee member
Currently the group is working to finalize the costs that will be involved and are looking at grants and financial support that will uphold the completion. It will take a community to build it.
Those interested in donating funds can do so by:
Sending payments made out to KHS School Memorial Fund to Security State Bank of Kenyon P.O. Box G, 602 Second Street, Kenyon, MN 55946 or to KHS Memorial Fund, 125 Third Street, Kenyon, MN 55946
Stop in and drop off funds at Security State Bank of Kenyon, 602 Second Street, Kenyon, MN.
Donate online by clicking the button below!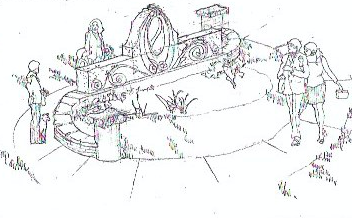 An illustration of the soon-to-be KHS monument.
Updated images on the project below. The pediments are all cleaned up and are ready for installation!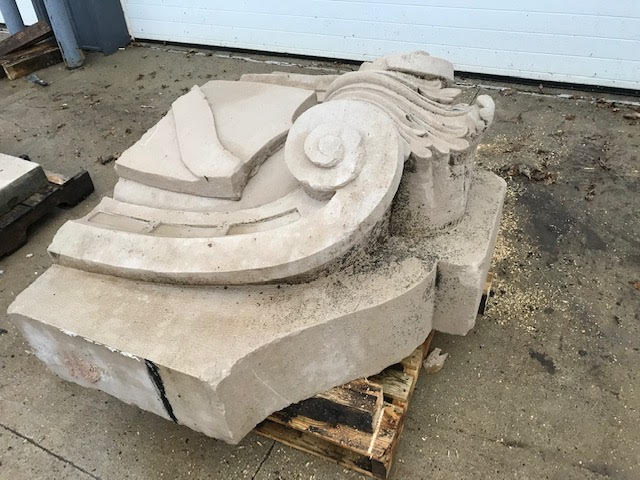 The monument will include a green space for a time to recoup and regenerate, to honor those who went before and provide education for students who continue to do so. It will also serve as a demonstration for youth to learn their own community history.
*Information provided by Kenyon Leader and author Michelle Vlasak